In the middle part of the Island of Pag , in a sheltered small bay inside the gulf of Pag, the small touristic village - Metajna (ital. meta – centre – geogr.) is situated. On the north western side the place has road connection with other places of the ''Barbat area'' – Zubovići and Kustići – as well as with Novalja (12 km), the centre of the northern part of the Island of Pag. It is located directly at the sea and on the surrounding hills, and in the southern direction there is a green basin with low mediterranean vegetation. This is also wine-growing district with a number of small vineyards owned by habitants.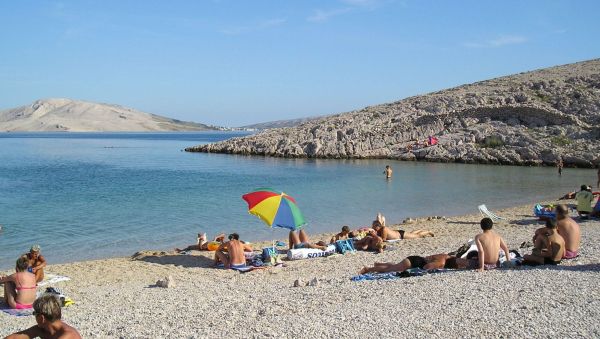 Below lies one of most naked areas in Croatia, it is quite unsuitable for human life, but because a rich variety of medicinal plants, which are used to feed the flock of sheep released into the wild during the summer months. During the hottest months of continuous flow of air that circulates between the hills and the sea, brings freshness and allows residents and visitors a more enjoyable stay.

The site overlooks the entire bay of Pag, and beyond. The sea is crystal clear and clean. Stream must flow makes perfect fresh sea, but the bay and Gulf are closed enough so that the sea is never too cold nor, nor too warm. The site is an endless source of healthy mineral water, and the nearby beach of mud, it is useful as a remedy for rheumatic diseases.
In Metajna'll find all sorts of dishes, mostly seafood - all kinds of fish and cephalopods, which has a submarine, and it's all fresh catch, since they operate in three fishing groups. Then, offer the shellfish, lamb, ham, cheese.
You can drink at every step of the local jaundice, which is proud of every house in Metajna, and there is still homemade brandy and sherry, and a healthy homemade tea and sage heather ... Also, there is also the local fruit - grapes and figs ... The greatest value of the friendly hosts who will be at your service all the time.
Izvor: http://www.lickosenjska.com/